Quick Break - on Defensive Zone Face-off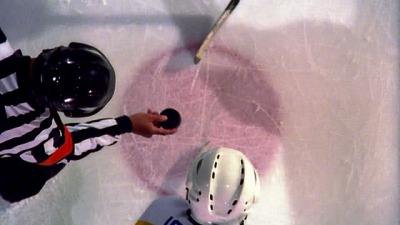 One wing who is responsible for covering a point anticipates the drop of the puck and skates toward his assignment. If his center successfully draws the puck back to his defenseman stationed behind the face-off circle, this wing accelerates between the two opposing defensemen in anticipation of receiving a pass from his own defenseman, who would shoot the puck across the zone, off the boards, and into mid-ice or beyond. The teammates in front of the goal must be certain not to allow any opponents to penetrate behind them in order to guarantee that the defenseman who receives the puck from the face-off has a clear path to make his pass. By the time the two opposing defensemen can discern and react to what is transpiring, the breaking wing is in full motion to receive the breakaway pass.
Of course, misconnections are possible. The defenseman making the pass might do so at the wrong angle off the boards so that, in one case, the breaking wing cannot reach the puck ahead of himself (but he can prevent an icing call) or, in another case, is forced to slow down in order to retrieve the puck because it is behind him. If the face-off is won back to the defenseman but the path for the puck across the ice is not clear, the defenseman should begin a different breakout. If the face-off is NOT won to accommodate this "quick break" play, all defensive players should fulfill their proper assignments based upon the developments. If the draw is won back to the defenseman stationed behind the face-off circle, a variation of this play is for him cautiously to lob a pass up the middle or to shoot it along the ice in this direction to the wing who would break in the same fashion. Other players' responsibilities would remain the same.
The coach can either decide when to signal for a "quick break" or to instruct his players that it is always operational if the face-off is won as stated. Obviously, alert opponents will soon learn about the "quick break" play and be prepared for it, but others may not. It can only be a positive feature to include this play in a team's repertoire.