Hockey Spotlight on Tony O.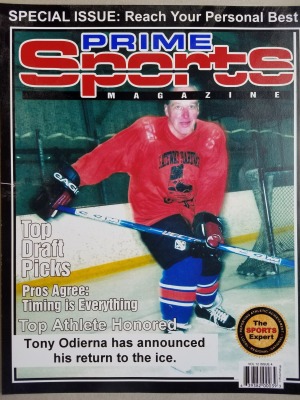 Spotlight From Prime Magazine - March, 2006
"I'm not necessarily the best (player)…and far from it. There's so many (adult hockey players)… dozens and dozens that I represent."
So Springfield native Tony Odierna told PRIME when we sat down to talk about his life-long passion for hockey.
A passion that, at 61, still keeps him on the ice playing in two different leagues, one that meets Monday nights at the Olympia Ice Rink in West Springfield, another that meets on Thursday nights at the Twin Rinks in Enfield, CT.
"I'm the old guy on defense who stays back and blocks shots…or tries to," he said humbly of his playing style.
Yet to simply say that Tony Odierna loves hockey would be an understatement. Get the man talking about the sport and you will see that the game not only inspires him, it sustains him, and keeps him young.
"In the Monday night league I'm clearly below average," Odierna said, referring to the ice time he shares with players that are often half his age. "But there's no shame in that. I love hockey and am glad to still be able to play."
He Got Game
And play he has, since he donned his first pair of skates at age 10.
"I knew nothing (about hockey)…my parents bought me skates and I kept my shoes on and tried to put them inside the skates," Odierna told PRIME, recalling his first experience with the equipment that would become a integral part of his life. "I didn't know you were supposed to take your shoes off…I told my parents the (skates) didn't fit."
But it didn't take long for this know-nothing novice to find his passion in this then-outdoor winter sport.
"I started playing (hockey) with local kids on a local pond," he recalled, adding that back when he got into youth hockey, it was strictly a winter sport, played outside when there was good ice.
"The only indoor ice was the Coliseum (in West Springfield)," he said.
By the time he was 12, Odierna was playing organized youth hockey as a member of the Forest Park Arrows.
"(Back then), if there were kids who wanted to play, various organizations wound sponsor their teams," he said.
He played his way through junior high, and at Classical High School, was, as he put it, "a basic player; I didn't play much (on the team) until my senior year, and then I was just a basic player."
And it seems playing on his high school team was the spark Odierna needed to launch his lifelong attachment to the sport.
"It grew massively from there," said Odierna of his life-long passion for the puck. "Like a lot of players I grew to play four-to-five times a week at my peak…there were a lot of guys who did that."
He's always found time to play
Soon Odierna's life revolved around three things: his work – he taught English, history/social studies and government at both the high school and middle school levels until just two years ago; his family; and of course, hockey.
He also coached school teams and at summer camps until the mid-1980's.
In fact, it was his ice time that helped him land a job at Cathedral High School in the early 1970's, where he doubled as the school's hockey coach.
"When I applied, the hockey coach had just retired…(hockey) helped get me (that) job," he said.
It also gave him the opportunity to coach some standout players.
"Cathedral drew top-notch talent," Odierna recalled, noting that at least two of the young men he coached went on to be Division 2 players.
And one who went on to greatness. Odierna coached Paul Fenton, whose hockey prowess took him all the way to the NHL.
"Paul came out as a freshman and wow, could he play," Odierna said. "He would have done the same with any coach."
It's been his fraternity
"If you play (adult) hockey you really have to like it…(we) get the late hours," Odierna said. "The last game starts at 10:30 p.m., it's over at 11:30 p.m. …by the time you shower and go home…and some guys don't eat before, I don't…and you get to bed between 1 and 2 a.m."
But it's this type of commitment in time and energy, and money – Odierna said playing costs him a couple of thousand dollars a year when you add up the $12-to-$15- a-game: rink fees, equipment and incidentals – that has created a hockey fraternity of sorts here in Western Mass.
"Lots of times you think that every hockey player knows every other hockey player," he said.
And those players come in all ages, all levels of ability, Odierna said.
In the Monday night league, Odierna said he's found himself playing with and against men who were students of his when he taught at Cathedral.
"They're wonderful men with families," he said.
And though he knows that, at 61, his play isn't as aggressive as it was when he spent most of his time carrying the puck, he's still glad to be suiting up with the Monday night guys.
"I know I'm near the bottom (in play) …I'm not good for that league. But even though I'm not one of the best…it's a social thing, too. I would go there just for the hockey…I know all 15 people," he said.
On Thursday nights, it's a different story. These guys are all over 40, and some had never really played hockey before joining the league.
"The passion I found for hockey at 10, they've found at 40 and 50," Odierna said of his Thursday night teammates. "I admire them…for them it's the world."
"Even though they are as they are (in talent), they're achieving their potential…that makes them better than stars," he said of his Thursday night guys, with admiration.
But, he said his teams are just microcosm of hockey in Western Mass.
"There's a large world of adult hockey in which I consider myself a small fish in a very big pond," Odierna said. "There are leagues at every local rink…and I think there's six, maybe seven in the area."
"What I do goes on with hundreds and thousands of people playing adult hockey…there's gentlemen in their 70's and 80's who play in tournaments," Odierna said.
But it's a world he's glad to be part of.
"I feel so lucky. I wonder about people who don't find their niche," he said.
His niche includes a puck, and a stick, and games that start at 10:30 p.m.
"We play 52 weeks a year," Odierna said of the leagues he belongs to. "Every Monday and Thursday night, don't call me. I'm out playing hockey."